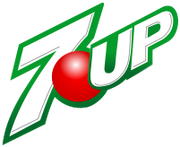 7 Up is a brand of lemon-lime flavored non-caffeinated soft drink. The rights to the brand are held by Dr Pepper Snapple Group in the United States, and PepsiCo (or its licensees) in the rest of the world, including Puerto Rico, where the concentrate is manufactured at the Pepsi facility in Cidra. The US version of the 7 Up logo includes a red spot between the '7' and 'Up'; this red spot has been animated and used as a mascot for the brand as Cool Spot.
Ad blocker interference detected!
Wikia is a free-to-use site that makes money from advertising. We have a modified experience for viewers using ad blockers

Wikia is not accessible if you've made further modifications. Remove the custom ad blocker rule(s) and the page will load as expected.